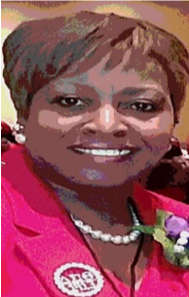 Greetings  Sensational Sorors of the Florence Alumnae Chapter,
I am so excited and delighted to serve as your President for 2019-2021.  I appreciate your support and look forward to achieving the goals of Delta Sigma Theta Sorority, Inc.  You have elected a fabulous team of Chapter Officers, whom I believe will work selflessly and diligently for the chapter.  This program year, we are excited to bring our signature event for the community to enjoy.  On December 13, 2019, we will be entertained by the Hallelujah Singers out of Beaufort, SC.  I hope you will plan to attend and invite others!
This is also a Jabberwock year.  Please begin to identify young ladies, 11th and 12th grades, to participate in the Jabberwock Scholarship Cotillion.  We want to provide as many scholarships to our youth as we can.  The informational session for interested participants will be announced to the community, and young ladies will be invited to attend to gather more information about expectations and requirements of the Jabberwock program.
It is my commitment to continue to find innovative and creative ways to achieve our program goals and objectives under Delta Sigma Theta's Five Point Programmatic Thrust and our Strategic Plan.  Working together, the younger, older, and Delta Dears, we can do all things through Christ who strengthens us.  I look forward to serving with you!
Together, We Can!
Tonya F. Mack, Ph.D.
President