In 1952, eleven (11) intelligent young women had the courage and foresight to give birth to a chapter in Florence, South Carolina.  Not only did they possess the qualities to pioneer this effort, but, through time, they, along with the women who have since united with the sisterhood have had the stamina required to move the chapter forward.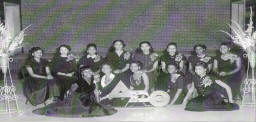 Charter Members: Willie Mae Garrett Femmster, Mamie Williams Garrett, Audrey Discon Hodges, Florence Jenkins, Zona Mae Martin, Daisy Richardson Miller, Louvenia Carpenter Millings, Dorothy White, Reese Bernice Richardson, Viola Jenerette Richardson, Blance Staley
The Florence Alumnae Chapter has undertaken and supported such projects as volunteers for community services in area such as Mental Health, Habitat for Humanity, The Boys and Girls Club of Florence, Teen Lift Tours, Jabberwock, Annual Scholarship Awards, Voter Registration, Delta Day at the Capital (State and National), Literacy programs Books for African Students, Teen Summit for teen-aged males, Health Education workshops and seminars for unwed mothers, Adopt-A-Family (DSS), Annual May Week Educational programs, Read-In Activities for Head Start, writing foundation grants, financial contributions to many and varied church and community groups, Muscular Dystrophy, Tutorial Programs, Census 2000, N.A.A.C.P. Life membership, International AIDS Day, The United Negro College Fund, the March of Dimes, the Endowed Chair of College Professors (HBCU), Summit V, and The Betty Shabazz Delta Academy.